Research & Development
Industry-leading Technologies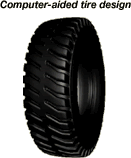 In the last ten years, Bridgestone has made several important technological innovations. We have realized enormous progress in computer-aided design, which we have developed into our Grand Unified Tire design Technology (GUTT®).
This automatic tire simulation and design method has changed the conventional approach to tire construction and simplified tire development processes. In the field of on-road tires, this technology has been applied to create DONUTS® for passenger cars, commercial trucks and buses, and is the primary reason why Bridgestone occupies the No. 1 position in Formula-1 motor sports racing. In the category of off-the-road tires, GUTT® has greatly contributed to the design and manufacture of extremely durable tires, as well as helped shorten the development term for new tires.
At the same time, Bridgestone has continued to accumulate substantial knowledge of tires at the molecular level. Technological advancements have resulted in an optimum mixture ratio of carbon, silica and rubber that successfully extends tire tread life.
The company has also invested millions of dollars in the off-the-road tire research and development in order to improve product quality and performance. For example, our plants employ sophisticated technology such as X-Ray and supersonic inspection devices to assure tire quality.
Bridgestone's ceaseless quest for maximized durability and value will benefit customers around the world by helping them accomplish more with their tires.